TACS2 - Commercial Real Estate Property Development
TACS2 - Commercial Real Estate Property Development
Thursday, May 18, 2023 8:30 AM - Friday, May 19, 2023 5:00 PM (CDT)
Description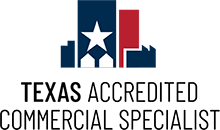 * This is a 4 Day Course*
May 18th,19th, 25th, and 26th
Please take these classes in order (TACS1, TACS2, and TACS3)
This course is designed to prepare students for entry into the commercial real estate field by exposing them to the fundamentals of commercial real estate leasing, property development, and appraisal valuation methods. Students in this course will develop a comprehensive understanding of the CMA process and the various due diligence elements associated with representing commercial clients.
Course #: 861
Provider #: 4520
Provider: Texas Reatlors®
Instructor: Ginger Unger & Michica Guillory
Pricing
Per person fee: $280.00
Refund Policy: A full refund will be issued if notification is received 2 business days prior to the scheduled class, otherwise a $40 fee will be deducted from your refund. Partial refunds will NOT be issued if notification is not received by 12pm the business day before the scheduled class.
Zoom Broadcast Course
This is an online course in a virtual classroom setting. An internet connection, speakers, microphone and a webcam (either built-in or attached to your computer) are required to take the course. All classes will be in the virtual setting and should be in a location that is free from distractions. *Due to limited staffing, the option to take the course virtually in the SPI Board office is no longer available*
Thursday, May 18, 2023 8:30 AM - Friday, May 19, 2023 5:00 PM (CDT)
**This is a 4 Day Course** May 18th, 19th, 25th and 26th
SAE = 30