TAHS: FHA Lending and Fair Housing
TAHS: FHA Lending and Fair Housing
Wednesday, June 28, 2023 (9:00 AM - 4:00 PM) (CDT)
Description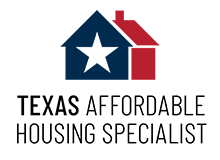 License holder will gain understanding of FHA as an entity; its role and function in the home buying process from a lending perspective and how to best serve their clients who are FHA eligible. Being a federal loan program, lending guidelines are directly impacted by Federal Fair Housing Act. License holder will gain an understanding of legal responsibilities related to real estate transactions so not to violate any fair housing guidelines. The course explores the areas of law related to the Fair Housing Act applicable to the day-to-day encounters of the real estate agent and potential impact on real estate transactions.
Provider #: 0001
Provider: Texas REALTORS ®
Course: 42842
Instructor: Kiersten Crawford
Pricing
Per Person: $80
Refund Policy: A full refund will be issued if notification is received 2 business days prior to the scheduled class, otherwise a $10 fee will be deducted from your refund. Partial refunds will NOT be issued if notification is not received by 12pm the business day before the scheduled class.
Wednesday, June 28, 2023 (9:00 AM - 4:00 PM) (CDT)